I was a non-believer in the idea that online therapy can be just as effective as a live session.
Of course, I am all-thumbs when it comes to computers. I believed that the insistence on "online everything" was ruining intimacy and stifling people's ability to connect with one another. As a therapist, I wondered if I could still tune into people's emotions just by looking at them through a screen, and I knew that I wouldn't be able to soothe people through touch as I usually do.
But in mid-2018, I began online therapy sessions with a couple in distress. They did not have access to in-person therapy because of their remote location, and I was able to make a difference. I have since seen both couples and individuals for virtual sessions.
Now that we're in the middle of a pandemic, everyone is in a "remote location" in a way, and fortunately, many therapists have adapted to online therapy in order to give as many people as possible the help they need to get to the other side.
You might be wondering if online therapy could work for you. Here are some things to consider before and during your first few sessions of online therapy. Much of the criteria is the same for going to in-person therapy. It's all about trusting your judgement.
(This advice might apply to both individual and couple therapy.)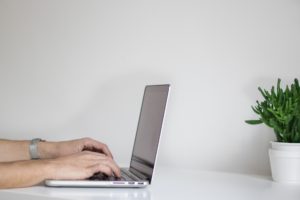 Before you get started
1. How comfortable are you with using technology?
(If tech is a breeze for you, skip this question. As a technophobe who often turns to the nearest young person for tech support, I think it's worth mentioning!)
When you book an online session, your therapist will probably set up the virtual meeting and send you an invite.
If you feel intimidated by technology or the internet, it may be hard to contemplate online therapy. You can simply respond to your therapist's invite and follow a link to whatever conferencing app they prefer. Zoom is pretty easy and very popular. Just make sure you can work the settings on your device so you can be seen and heard clearly.
For some folks, there's a block to thinking about a virtual environment as a place you can be comfortable. The only thing to do is to try it out and see if you can talk on a personal, intimate level to someone on a screen! (Please be assured that therapists are required to adhere to rules about confidentiality and client protection, whether sessions are held virtually or in-person.)
2. How willing are you to be engaged in online therapy?
Therapy will not truly help you unless you can gradually engage and commit to exploring your issues. Some people say with online therapy, it's not possible to really open up and engage. I don't find that to be true.
If you find that the therapist is on target and "taking you home," during online sessions, you'll likely be able to take risks and really engage in the process of healing and change.
BUT – what does "engaging" mean for you as the client?
It means taking risks in sharing information about yourself.
It means telling a therapist when it's too hard for you to listen to what they are saying or that you aren't able to take it in at that particular time.
It means being willing to show up and to entertain what the therapist says and to explore what's happening for you and feel some new feelings.
If this is way too hard, and you hold back and don't let yourself get involved, then therapy will be like going to the gym but not breaking a sweat.
With a good therapist, online or off-line, you will be moved. You'll be more willing to engage. You should feel "caught" by your therapist, as in "I was falling, but then my therapist caught me before I crashed." What they say should resonate with you.
Your First Sessions of Online Therapy
Treat the first two sessions as an experiment – an audition, the way you do with any health professional. Then go with your gut.
When people visit a therapist, they're usually worried or anxious to begin with. They forget that they have the right to ask, "Could you please tell me what you see as the problem, exactly? Can you explain how you see that this process could lead to change?"
We ask for prognoses and treatment plans from our doctors, but people often give the therapist "magical powers" to heal them. It's important to advocate for yourself. Go ahead and ask:
What approach do you use with problems like mine?
What research do you have that backs up your approach?
How does what we're doing in therapy work?
How will I know that change is happening?
You may like your therapist as a person, but when they tell you the journey they want to take you on, you might not want to go. It's possible that another approach than what your therapist uses would work better for you. And it's okay to find another therapist. Some approaches just fit better than others for specific clients.
As a client with an eating disorder once said to me, "This treatment the clinic gives me, it's helped me put on weight, and that is great. But somehow it's not hitting the mark. No one talked to me about my anxiety. I don't think I'm going to be able to hang onto the gains I've made. I know my problem is my anxiety – I want someone to help me with that, too. Do you do that?"
---
As I was thinking about this post, I thought about my experiences with going to the doctor, especially since I've just had eye surgery.
Some doctors I've been to were dead set on giving me a diagnosis, and then failed to "see" me anymore or hear my concerns. They stopped listening. They were doctors who treated the problem and not the patient.
Good therapists listen to your story and see the specific problem you are facing in the context of your life and your history, and they're able to pinpoint your strengths as well as your vulnerabilities.
There are some "green flags" to look for in an online therapist:
You need to feel safe with your therapist. (Perhaps this need for safety is intensified by the person being on a flat screen.) Some signs of safety include:
Feeling emotionally heard, like the therapist "gets" you and your struggles
Feeling respected and listened to in terms of your goals and needs
Feeling like the therapist is tuning into you even though they're not physically in the same space as you
The opposite of this would be feeling judged, labelled, or put in a box.
The therapist should be curious about you. I had a wonderful physician years ago, who was wonderfully curious about me. Her curiosity literally saved my life.
I had been to several specialists with a major health problem, without success. Everyone else I had seen was caught up in my symptoms and coming up with elaborate solutions. This curious physician asked me what I'd been doing in the 6 weeks before my symptoms showed up. After I answered, she nailed down the problem and solution in seconds.
It's important that a therapist sees you in context, as a human being. People usually come in facing some combination of anxiety, depression, loneliness, and feeling emotionally off-balance. But circumstances are highly individual. Does the therapist relate to you as a unique human being or do their comments feel formulaic?
Your therapist should also be very curious about your relationships / the support systems you have in place. Relationships are our main source of strength that impact us in every way. One of your therapist's big concerns should be how you regulate stress and anxiety, including how you attempt to take care of yourself, and whether you have others to turn to for support. Can you use an inner sense of felt connection from positive relationships, past or present, as a kind of safe haven in your everyday life?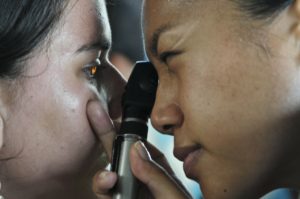 With my current vision problem, I was very impressed with my specialist surgeon. After my tests, and before she broke the news about my need for surgery, she sat me down:
My doctor: "Are you here by yourself?"
Me: "Yes, I wasn't sure about the rules, if my husband would be allowed to wait for me."
My doctor: "Where is your husband?"
She looked at me and thought about context before she gave me scary news. She anticipated that the information she would be giving me would be difficult to digest. So she asked me if I was alone and if I had the resources to deal with it.
I was seriously impressed. Add to that: after the surgery, she didn't give me a long list of things to do. She wrote it down and then she gave MY HUSBAND the list of all the things. She included him to make sure that I had support during my aftercare.
Seeing a patient in context is what makes a good surgeon and doctor.
It's also what makes a good therapist.
In fact, this is what makes a great HEALER.
---
I see more and more online therapy in the future.
Certainly I expect this to happen with EFT – Emotionally Focused Therapy – the therapy I do. A trained EFT professional can tune into people emotionally, to help people with their most difficult emotions. In our current large study with online EFIT (Emotionally Focused Individual Therapy), our feedback from therapists and clients seems to show that EFT works very well in a virtual format.
The EFT therapist knows how to "be" with their clients. We know what "home" looks like emotionally. We have all kinds of research we can rely on. Because of this knowledge and evidence-based methods, I do expect my clients to get better. All of this gives an EFT therapist a confidence that comes through the screen, and translates into a better online therapy experience.
My clients tell me that they like to be seen in their home – it feels more comfortable. Online therapy is more accessible and convenient. But more than this, once they get used to the new medium, they tell me that the sessions are helping them – online therapy works just fine. In fact, I am sure that many clients will want to continue to see their therapist online long after this pandemic is over.
In our need to deal with an impossible situation, where we all feel more anxiety and also have less access to face-to-face contact with supportive others, we have discovered a new way to find the help we need. Indeed, online therapy is a god-send!